The Site Author
A few words from the Kaleun...
The author of u47.org, Rick D. Joshua, is both a web designer and amateur military historian, and has used both of these two elements to create this site. In addition to this u47.org he has also designed and written other Second World War and historical websites, including Panzer Ace, a site dedicated to the wartime feats of the legendary Tiger I commander Michael Wittmann, and Das Kehlsteinhaus, an historical overview and English-language information guide to Hitler's Mountain Teehaus on the Kehlstein mountain in Bavaria. All of these sites have been running for the best part of a decade, and have received positive reviews from all sides.
In addition to writing historical web sites for no other reason but to share this information with the rest of the world, Rick has created a number of other web creations as a freelance web designer and developer; he has designed sites for companies ranging from business consultancies and IT developers through to sign makers and garden centres.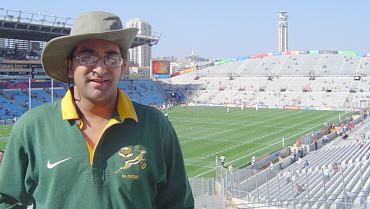 Rick lives with his girlfriend Caroline in London, England, and is busy working on her site mytreehouse.co.uk, a portfolio of hand-painted glassware, cards and gifts - some of which is available through this site. While trying to juggle all of this, Rick is also in the process of compiling the research materials for his first book, which will be a parallel biography of Günther Prien, Michael Wittmann and Luftwaffe ace Hans-Joachim Marseille. His very limited spare time is spent travelling, reading, filling the blanks in his stamp collection and following the Springboks.