Interactive Patrol Map
An overview of U-47's wartime operations
To view the vessels sunk by U-47 on its ten wartime patrols on the interactive map, hold the mouse over the links listed below. The vessels sunk during that particular patrol will then be indicated on the map. Then, hold the mouse over the highlighted region on the map to read a short report on each patrol.
Patrol 01 | Patrol 02 | Patrol 03 | Patrol 04 | Patrol 05 | Patrol 06 | Patrol 07 | Patrol 08 | Patrol 09 | Patrol 10 | View all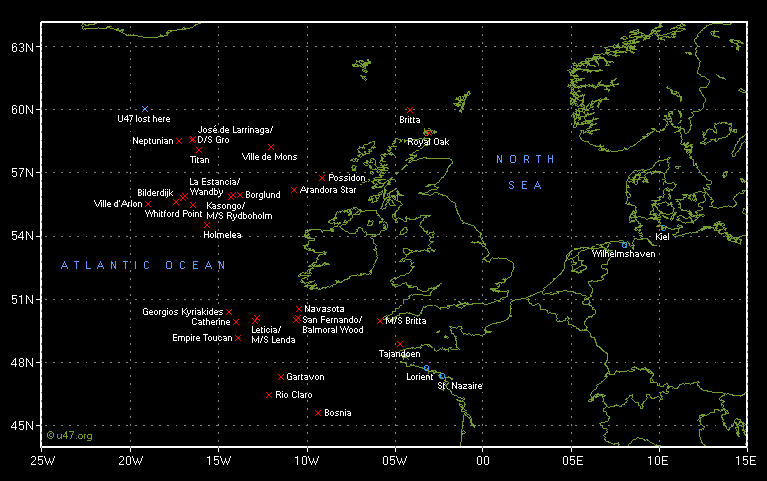 Patrol 01: 19.08.1939 - 15.09.1939
U-47's first operation of the war. Having claimed the 2,406-grt British steamer Bosnia on 5 September 1939, the U-boat claimed two British victims on the following two days, the steam freighters Rio Claro and Gartavon. U-47 returned to Kiel just over a week later on 15 September.
Patrol 02: 08.10.1939 - 21.10.1939
U-47's second and most famous mission in October 1939 saw it head to Scapa Flow in the Orkney islands, and take on the heavy ships of the British home fleet. In an audacious night-time raid during 13/14 October, Prien was able to manoeuvre his boat through the blockship barriers and into the Scapa Flow, where he successfully attacked and destroyed the British battleship Royal Oak. 833 men were killed as the battleship plummeted to the sea bed in little more than a fifteen minutes. Running against a strong current, the U-boat was able to safely work its way back out of the flow and back to base, after which Prien was awarded the coveted Ritterkreuz.
Patrol 03: 16.11.1939 - 18.12.1939
U47's second Atlantic patrol lasted just over a month, during which three enemy vessels were sunk. The first of these was the British steam freighter Navasota on 5 December, followed by the Nowegian tanker M/S Britta and the Dutch vessel Tajandoen on 6/7 December.
Patrol 04: 11.03.1940 - 29.03.1940
During March 1940, U-47 set out for its fourth patrol. Spending nineteen days in northern waters, Prien was plagued by torpedo problems, which resulted in a number of misfirings and lost opportunities. The sole victim of this patrol was the Danish steam freighter Britta, which was sunk on 25 March.
Patrol 05: 03.04.1940 - 26.04.1940
As the torpedo crisis worsened, things went from bad to worse. During U-47's fifth mission in April 1940, the boat spent twenty-four days at sea for no return. It was the only patrol in Prien's wartime career in which he didn't claim at least one victim.
Patrol 06: 03.06.1940 - 06.07.1940
By the early of summer of 1940, many of the problems with the torpedoes had been solved, and as a result U-47's sixth patrol was to be its most successful. A total of eight vessels were sunk, totalling 51,189grt. The first victim was the British freighter Balmoral Wood on 14 June 1940, which was followed a week later by the another british vessel, the tanker San Fernando. Ten days later, the Panamanian-registered freighter Catherine was sunk, followed a further three days later by the Norwegian freighter M/s Lenda. Two days after that Prien struck again, this time the victim being the Dutch tanker Leticia. On 29 June the British steam freighter Empire Toucan was successfully attacked, with the Greek freighter Georgios Kyrikides meeting the same fate the following day. The final victim of this successful patrol was perhaps the most infamous - the liner cum freighter Arandora Star, which was sunk with the loss of 805 lives, the majority of them German and Italian internees.
Patrol 07: 26.08.1940 - 25.09.1940
Undertaken during September 1940, U-47's seventh patrol was to yield half a dozen victims totalling over 30,000grt. The first of these was the Belgian cargo vessel Ville de Mons on 2 September, which was followed by the British steam freighter Titan two days later. On 7 September, Prien and a number of other U-boats took on Convoy SC-2, with the "Bull of Scapa Flow" snaring three victims, the British steam freighters Neptunian and José de Larrinaga, and the Norwegian steam freighter D/S Gro. Two days afterwards, U-47 claimed one of the SC-2 stragglers, the Greek freighter Possidon. On its way home on 21 September the British vessel Elmbank was attacked; however the vessel didn't sink and was finished off by U-99. Not all was rosy, however: on 5th September, deck gunner Heinrich Mantyk was swept overboard.
Patrol 08: 14.10.1940 - 23.10.1940
U-47's eighth patrol was one of its shortest, lasting a mere ten days during October 1940. During this short patrol four enemy vessels were sunk. The first of these, the Dutch steamer Bilderdijk - part of Convoy HX-72 - was sunk on on 19 October, quickly followed by the British motor freighter Wandby which was attcked on the same day but sank two days later. On 20 October, two British steam freighters, La Estancia and Whitford Point, were torpedoed and sunk.
Patrol 09: 03.11.1940 - 06.12.1940
The penultimate patrol undertaken by U-47 took place during November and December 1940. It was a largely unsuccessful mission, with Prien and his crew spending thirty-four days at sea for only one victim. This was the Belgian cargo vessel Ville d'Arlon, which was sunk on 2 December. Two further ships, Gonçalo Velho and Conch, were damaged.
Patrol 10: 20.02.1941 - 04.03.1941
U-47 set out on its final mission on 20 February 1941, and was to claim four victims, all of which were from Convoy OB-280. The first of these was the Belgian steam freighter Kasongo, which was sunk on 26 February. This was quickly followed on the same day by both the Swedish-based motor freighter M/S Rydboholm and the Norwegian motor freighter Borglund. U-47's final victim was the British steam freighter Holmelea, which was sunk on 28 February. Just over a week later on 7 March 1941, U-47 was reported missing.
U-47 was reported missing south of Iceland on 7-8 March 1941, in the region around coordinates 60°00N/19°00W. All 45 men on board, including Kapitänleutnant Prien, were lost.
U-boat base, Lorient, Western France.
U-boat base, St. Nazaire, Western France
U-boat base, Wilhelmshaven, Germany
U-boat base, Kiel-Laboe, Germany