The Crew
Wilhelm Spahr, Chief Navigator
Wilhelm Spahr, Chief Navigator on U-47 during the raid on Scapa Flow, was born on the 4th April 1904. After leaving U-47 in February 1940, he became an instructor at a training Flotilla. Spahr became the First Watch Officer aboard U-178 in February 1942, and obtained the rank of Kapitänleutnant on 1 January 1943. Having attended a commanding officers' training course, he left Bordeaux on board U-178, a Type IXD2 commanded by Korvettenkapitän Wilhelm Dommes, on the 28th March 1943. During this 21-week patrol U-178 sank six ships, arriving at Penang on the 27th August 1943.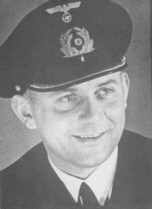 U-47's Chief Navigator at Scapa Flow, Obersteuermann Wilhelm Spahr. Spahr left U-47 in early 1940 to join U-178 as 1.WO, and took command of the boat in November 1943. U-178 was eventually scuttled in 1944, and Spahr was to survive the war.
U-178 then left Penang on 9 October 1943 and arrived two days later at Singapore. The return journey was made between the 23 and 25 October. U-178 again sailed from Penang to Singapore between 6 and 8 November 1943. The return journey was made between the 23 and 24 November 1943.
Kapitänleutnant Wilhelm Spahr took command of U-178 on 25 November 1943. The U-boat departed from Penang on 27 November 1943 with a cargo of tin and rubber. One month later, on 27 December, Spahr sank the American 7,244-ton José Navarro. They then refuelled from the 7,749-ton replenishment ship Charlotte Schliemann 100 miles south-east of Mauritius on 28 January 1944.
Later in the patrol, BdU ordered U-178 to rendezvous with UIT-22, an ex-Italian submarine taken over by the Kriegsmarine, 600 nautical miles south-west of the Cape of Good Hope. UIT-22 had lost a lot of fuel when it had been attacked and damaged by an American aircraft off Ascension. U-178 was to provide UIT-22 with enough fuel to reach Singapore, while UIT-22 was to give U-178 a new radar warning device and a set of Enigma keys to use when transiting the Bay of Biscay. On 5 March 1944, U-178 transmitted a long radio signal which allowed the South African Navy to obtain a good direction-finding fix. U-178 was attacked by British and South African aircraft on 8 March, but managed to escape. When the search was resumed on the 11 March, UIT-22 was damaged in a surprise attack, then sunk with all hands.
After more than twenty-five weeks since they had left Penang, U-178 arrived at Bordeaux on 25 May 1944.
When the American drive through France threatened Bordeaux, U-178, under the command of Kapitänleutnant Wilhelm Spahr, was scuttled on 25 August 1944.
Wilhelm Spahr survived the war and retired as a Korvettenkapitän. He died in 1978.
« previous