The Crew
Amelung von Varendorff, 2.WO
Prien's Second Watch Officer (2.WO) was Amelung von Varendorff, who was born on 20 December 1913 in the port city of Kiel. Having joined U-47 at the rank of Leutnant zur See, von Varendorff was promoted to Oberleutnant zur See the week after the destruction of the Royal Oak at Scapa Flow.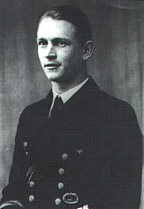 Prien's 2.WO, Oberleutnant zur See Amelung von Varendorff. Having survived the fate of his former crew members, von Varendorff was to take command of U-213 which was sunk on its third patrol.
Von Varendorff left U-47 in early 1941 to commence his training to be a U-boat commander. As a result, he was to escape being aboard U-47 in March when Prien embarked on what was his tenth and final patrol. Later that year, Prien's former 2.WO (he had been promoted to 1.WO in November 1940) took command of the new Type VIIC vessel U-213, embarking on his first patrol on 30 August. Von Varendorff was to endure three unsuccessful patrols between August 1941 and July 1942; on 31 July 1942, U-213 was sunk following a depth-charge attack at the hands of a trio of British attack vessels HMS Erne, HMS Rochester and HMS Sandwich. All hands, including Oberleutnant zur See von Varendorff, were lost.
« previous