The Captain's Cabin: Bookstore

Silent Hunter III
PC DVD-ROM; simulation
The classic Silent Hunter series enters a whole new era with the ground-breaking third incarnation. If you thought SH3 was amazing, this new simulation will leave you gasping for air. In some cases literally. "The game includes a career campaign, patrols that have both fictional and historical missions, a mission editor and multiplayer feature. Whether it is stalking convoys or dodging depth charges, players will experience their own personal war story. The spectacular graphics, multiplayer options, and suspenseful gameplay combine to create the most impressive submarine simulation ever". Says it all.

Das Boot - The Miniseries
DVD Video; Dir: Wolfgang Petersen
Probably the most famous submarine film ever made, Wolfgang Petersen's epic follows the crew of U-96 led by its veteran skipper (Jürgen Prochnow) during the Atlantic campaign. Based on the book of the same name by Lothar-Günther Buchheim, Das Boot dramatically captures every facet of life on board a U-boat, from the excitement of the convoy hunt to the claustrophic terror of the depth-charge attack. This recently released 2-disc set includes all six hours from the acclaimed miniseries first aired on German network television in 1981.
Das Boot - The Director's Cut
DVD Video; Dir: Wolfgang Petersen
Originally released in 1981, the cinematic version of Das Boot was remastered, reedited, and re-released in the summer of 1997 to much popular acclaim. Containing a number of additional scenes, this exclusive DVD edition comes with a number of features including a voice-over commentary from lead actor Jürgen Prochnow and director director Wolfgang Petersen. The cinematic version stands out as a masterpiece in itself, and as a complement to rather than simply a cut-down version of the six-hour original miniseries.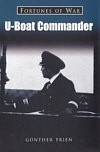 U-Boat Commander
Lieutenant-Commander Günther Prien
The classic autobiography of the commander of U-47, the "Bull of Scapa Flow", Günther Prien. In this fast-paced autobiography, Prien describes his early life before the war, his training with the reinvigorated U-boat fleet, and the forays with Allied shipping in the North Atlantic. The highlight, however, is his dramatic account of the events that took place over the course of 13th/14th October 1939, and the sinking of the battleship HMS Royal Oak at Scapa Flow.

6.39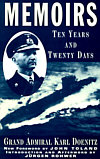 Memoirs: Ten Years and Twenty Days
Grand Admiral Karl Dönitz
The post-war memoirs of the Commander of the U-boat fleet, Supreme Commander of the Kriegsmarine, and the second and last Führer of the Third Reich. One of the finest books on Naval history, it is written with both a clear purpose and candid honesty. Thorough without being too technical, it offers a wonderful insight into the life and career of the man who almost single-handedly could have changed the course of the war.
German title: Zehn Jahre und zwanzig Tagen: Erinnerungen 1935-1945